Exchange Student Program under Agreement with Partner Universities
(EAP program)
Supervising Professor
As a research university, exchange students are expected to join a laboratory and actively conduct research during the exchange program (it is possible to take courses as well). To participate in the program, the supervisor's pre-approval is required via T-cens system (the link will be provided once nominated).
Please note that your supervisor's main affiliation must be within the School of Engineering and some professors may not be available for hosting students. You can find the available professors and send your request under the supervising professor section after uploading the application documents at T-cens.
How can I find information about the professors?
Please use our websites, search engines (Google, Yahoo, etc.), and whatever other means you need, including the sites below:
UT Search
Departments in Graduate School of Engineering
Graduate School Faculty Members
Departments in Faculty of Engineering
Undergraduate Faculty Members
How to Inquire a Supervising Professor?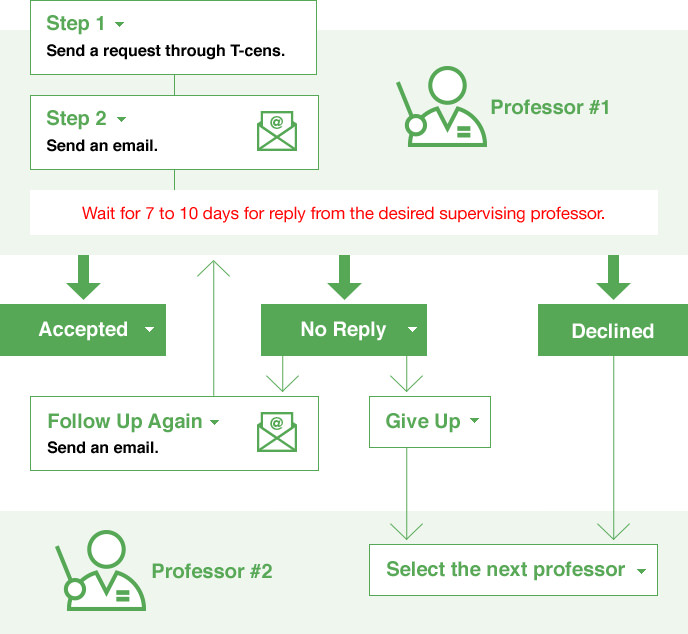 Send a request to your desired professor through T-cens application system one at a time.
Do not send the first request from your personal email address.

If you send a request directly from your personal email, the professor can't tell if you are really nominated by our partner university and what kind of study program you are applying for.
After you successfully send your first inquiry to the professor through T-cens, follow up your request by sending an email directly from your personal email address and ask the professor to check your request sent from T-cens.
Make the subject clear in the tile of the e-mail. 
Include following information:

1. T-cens application ID number (EAPXXXXX0023)
2. Your Full Name
3. Write a following sentence: "T-cens request e-mail has been sent on YYYY/MM/DD hh:mm
through T-cens.support@t-cens.iapply.t.u-tokyo.ac.jp."
You will receive a message so please wait until you hear from OICE staff.
★If you already have an approval (a private consent) please click here .
If the professor does not reply to you after waiting for 10 days, you need to decide to either "give up" or to "follow up again"
Send an email to the professor again and ask him to reply to you. Promote that request yourself. You have to decide yourself how long you will wait for a reply from the professor.
If you decide to "Give up", you can start inquiring the next desired supervising professor. But before you start, please make sure to email the professor that you requested and tell him/her that you will send a request to another professor since you did not hear back from him/her.
To inquire the next supervising professor, we would like you to re-examine your study plan and your photo. Then if necessary, please re-write your study plan or re-upload your photo as follows.
Study Plan
Please elaborate your study plan. You have to write the research plan and not only a list of courses you want to take.
You should make your study field close to the professor's filed whom you are inquiring to.
Write concrete plan and not abstract. If your study plan is clear about what you really want to do, profes sors will have easier time to consider having you.
Photo
Please upload a photo which is preferably high-resolution and formal with solid background which is used for passport.